The 13th Annual Craft Lake City DIY Festival Presented By Harmons
Participant Applications Are Now Open!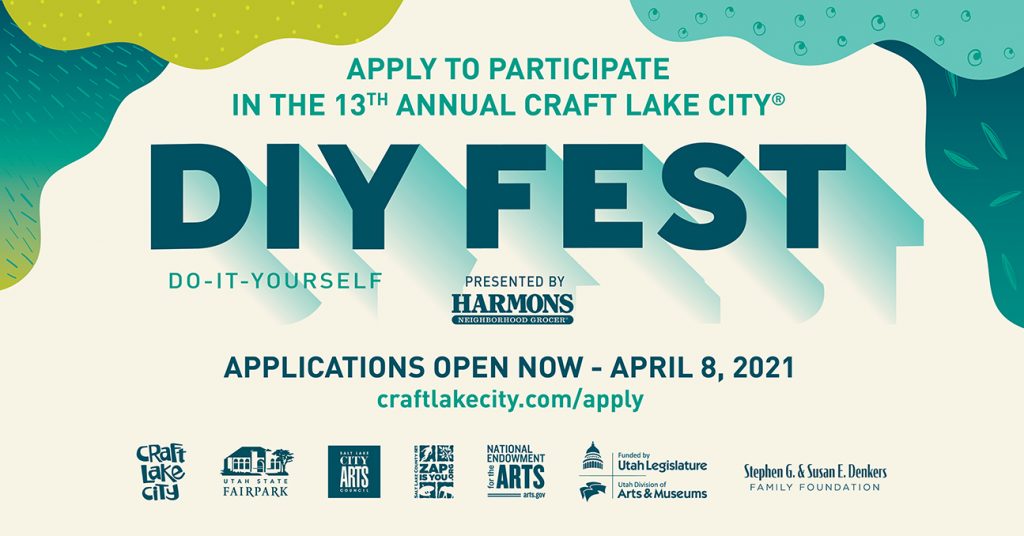 Salt Lake City, UT – Craft Lake City, a 501(c)3 non-profit organization, is pleased to announce that applications are now open to potential exhibitors and performers for the 13th Annual Craft Lake City® DIY Festival® Presented By Harmons, being heldFri., Aug. 13, Sat., Aug. 14 and Sun., Aug. 15, 2021 at the Utah State Fairpark. Utah-based artisans, craft foodies, vintage vendors, STEM exhibitors, DIY engineers, performers and entertainers, multicultural organizations and Kid Row artisans are encouraged to apply at https://craftlakecity.com/apply/ by Thur., April 8, 2021.
Craft Lake City's DIY (Do-It-Yourself) Festival is Utah's largest local-centric, three-day arts festival. The DIY Festival is an event created by locals, for locals, and celebrating all things local. It encompasses do-it-yourself culture as a whole, featuring booths with work by local artists and makers, a Google Fiber STEM (science, technology, engineering and math) Building, two stages of music and dance performances, local food vendors and food trucks, a kids' area, a DIY workshop area, a VIP lounge and more.
At this time, Craft Lake City anticipates that the 13th Annual Craft Lake City DIY Festival Presented By Harmons will take place as scheduled from Fri., Aug. 13 through Sun., Aug.15 at the Utah State Fairpark. Craft Lake City will be taking careful precautions to create a safe environment for makers and attendees based on governmental covid-19 guidelines. An online alternative format will be implemented if necessary, building on the model Craft Lake City launched last year to help ensure the health and wellbeing of the creative community.
"Utah is home to an incredible creative community and the DIY Festival at the Utah State Fairpark makes it possible for Craft Lake City to showcase the distinct talent of local makers," says Shelbey Lang, Craft Lake City Artisan and Programs Manager. "We encourage all emerging and established performers, artisans and STEM tinkerers to invest in their creative businesses by applying to participate in the 13th Annual Craft Lake City DIY Festival Presented By Harmons."
Craft Lake City wishes to further affirm its commitment to the local creative community and will be holding Virtual Application Assistance Days on Mon., March 15, 2021 at noon and Mon., April 5 at 6 p.m. During the virtual events, Craft Lake City team members will be ready to help answer all applicant questions, walk through the website and application process, and offer a short tutorial about how to take the best product photos at home. Attendees will have the opportunity to get their questions answered and gain insight into this year's application process.
As a part of Craft Lake City's DIY Festival Inclusion Program, Craft Lake City seeks to provide the entire maker community with the support they need to creatively and economically thrive. To support this goal several scholarship opportunities will be offered including Artisan Scholarship and Mentor Program, STEM Scholarship and Kid Row Scholarship.
Craft Lake City's year-round programming is supported in part by the residents of Salt Lake County through the Zoo, Arts & Parks (ZAP) Program, the Salt Lake City Arts Council, the George S. and Dolores Doré Eccles Foundation, the Stephen G. & Susan E. Denkers Family Foundation, and Utah Arts & Museums, with funding from the State of Utah and the National Endowment for the Arts. The 13th Annual Craft Lake City DIY Festival Presented By Harmons is sponsored by Google Fiber, with funding from the Salt Lake City Mayor's Office. Please visit the Craft Lake City website for more details.